FOREWORD
I wrote this primer on the CRM software industry as part of an internship with Aquamarine Capital. I am not an industry expert, so think of this white paper as more of a conversation starter than my final word. If, after reading this, you have insights or feedback that you want to share, please write to me [email protected] as I will incorporate your feedback and insights and reshare an updated version.
INTRODUCTION
The dominant growth drivers within the technology industry as a whole is the shift to the public cloud, with huge potential stemming from the vast TAM much of which remains untapped. Despite rapid development of the market in recent years, there is still high growth potential. Public cloud spending in 2020 was estimated at $317 billion, which would represent approximately 20% of total enterprise tech spending, $1.6 trillion, [1]
Cloud CRM Market Forecast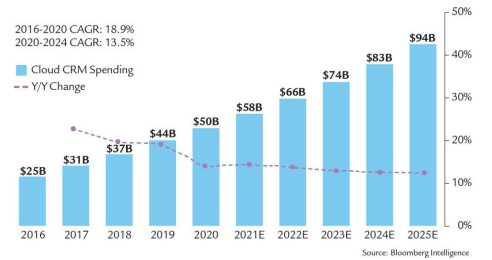 Applications within the Customer-relationship-management (CRM) segment comprise approximately 25% of the total $200 billion Software-as-a-Service (SaaS) market, due to ready public-cloud adoption within the segment. [2]
Public-cloud CRM, which encompasses a variety of functions including sales productivity, customer service, advertising and digital commerce is expected to be worth $94 billion by 2025, based on CAGR of 14%, according to data from IDC. These applications were among the first to move from an on-premise model to the cloud and the penetration rate of 74% is well above the rate seen in other segments such as Engineering, We anticipate strong demand growth for many of these front-office applications and increasing cloud penetration which was accelerated by Pandemic-related concerns.
In the short term, we anticipate a growth rate of 15% in 2021 and 14% in 2022, a slight decrease on the 3- year CAGR we have seen of 18%, [3]
The Market Dynamics in the sector are particularly interesting since firms which could reasonably be considered to be competitors have created numerous partnerships and tie-ups to improve functionality so product offerings are often comprised of components from various firms.
1Salesforce
Salesforce dominates the public-cloud CRM market with a 26% share, driven to a large extent by early- mover advantage derived from pioneering the cloud delivery model. Salesforce's Market Share is almost 5 times greater than its closest competitor. Salesforce continues to add new products and features to its existing repertoire of CRM applications, which may help defend its big lead and expand faster than the overall market. [4]
The pending acquisition of Slack could also boost Salesforce's long-term market position as chat- based collaboration tools extend their steady adoption. SAP's large on-premises presence and acquisition of Qualtrics in 2019 could strengthen its position in the cloud market as it aids its large on-premise install base of customers in their cloud migration. [5]
Salesforce does have one issue which is causing it to haemorrhage some customers to other platforms such as Oracle: its pricing. While most analysts and other users seem to show high user satisfaction with the Salesforce application some consider them too 'sprawling' and too expensive. Salesforce could potentiallyretain these customers by offering a streamlined version of its platform with fewer functionalities at a lower cost, but it remains to be seen whether this will be implemented.
2SAP
Since 2012, SAP has acquired several companies that sell cloud-based products, with several multibillion- dollar acquisitions seen by analysts as an attempt to challenge competitor Oracle[6] In 2014 SAP bought ConcurTechnologies, a provider of cloud-based travel and expense management software, for $8.3 billion, SAP's most expensive purchase to that date. [7]Analysts' reactions to the purchase were mixed, with Thomas Becker of Commerzbank questioning whether Concur was the right choice for SAP, while Credit Suisse called the acquisition an "aggressive" move. [8]
In 2014, IBM and SAP began a partnership to sell cloud-based services.[9] Likewise, in 2015, SAP also partnered with Hewlett Packard to provide secure hybrid cloud-based services running the SAP platform. [10] Both HPE and IBM provide infrastructure services to SAP, and SAP runs its SAP HANA cloud solution on top. SAP has announced additional partnerships with Microsoft in order to give customers tools for data visualization, as well as improved mobile applications. [11]
3Microsoft
Microsoft Dynamics CRMis acustomer relationship management software package developed by Microsoft. The product focuses mainly on sales, marketing, and service (help desk) sectors, but Microsoft has been marketing Dynamics CRM as a CRM platform and has been encouraging partners to use its once proprietary, now Open Source (.NET based) framework to customize it. It is part of the Microsoft Dynamics family of business applications. [12]
Dynamics CRM is a server-client application, which, like Microsoft SharePoint, is primarily an IIS-based web application which also supports extensive web services interfaces. Clients access Dynamics CRM either by using a browser or by a client plug-in to Microsoft Outlook.
One of the features that marks Dynamics 365 out from other leading CRMs Is its native integration with LinkedIn. Since its purchase of the networking platform in 2016, Microsoft has been working to integrate LinkedIn user data with its products, and for salespeople using Dynamics 365, having access to information on the site's 500m users and their connections is a hugely valuable tool.
Aside from its many cutting-edge features, many customers are attracted to Dynamics 365 due to its easy integration with other widely used Microsoft business products such as Outlook, Power BI, and Office. In addition, Dynamics 365 features a range of other business management products, such as ERP and marketing apps, making it a tempting option for businesses who want to overhaul processes across the board or create a single digital platform for their all their operations. [13]
Its familiar, user-friendly interface is also a plus for many businesses, and can help increase user adoption due to its similarity with other Microsoft products.
4Google
Google's current CRM offering is quite distinct when compared with some of the other market participants such as Salesforce and SAP. It has a dominant market share in a specific niche, digital advertising CRM which is built upon its strength in the broader digital advertising space. As such Google does not have the same fears of competitive encroachment within its CRM segment since other firms are unable to compete with its competitive advantage within this space.
However, Google's CRM offerings are faced with serious regulatory risks primarily stemming from the newonus on data protection and user privacy. Google's value proposition in the CRM space leverages Google's access to user data to provide marketing insights and enable superior lead generation for customers, however GDPR and similar regulation limits their ability to create value by limiting their ability to leverage
this asset.
Currently, the EU is the strictest regulatory environment in which Google's CRM operates in terms of Data Protection and therefore the primary regulatory risk is further EU limitations. [14]
5Oracle
Oracle CX provides a unified digital portfolio of solutions for CRM and related areas like commerce, marketing, loyalty, service, content and CPQ. CPQ (Configure, Price, Quote) is a sales tool that removes many of the complexities sales reps face when preparing product quotes and provides a platform for buyers to customize products tailored to their needs. It also stores all a company's price and configuration details to ensure accuracy no matter the unique buying scenario. Considering the general trends of Mass Customisation which have taken hold both in mass-market B2B transactions as well as traditional B2C customisation, [15] these kinds of tools can enable Sales departments to give far more accurate and reliable price quotes and significantly reduce the time required to receive a quote, even for fairly complex customised orders. This represents an enormous value proposition since being able to deliver a rapid quote is highly correlated with greater sales conversion ratios.
This lead segmentation helps users target leads at the ideal time in the sales pipeline as well as identify up- sell and cross-sell opportunities. Oracle CX Cloud Suite includes the Oracle marketing platform (Eloqua) that allows users to manage both B2C and B2B interactions. It also facilitates designing and curating personalized marketing campaigns for specific contacts or accounts. Then they can send campaigns, newsletters or mailers via web, mobile and social media channels.
Oracle's solution helps users track mentions and discussions about their campaign on social media. Users can also map the effectiveness of a campaign and forecast sales probability. Additionally, the CX cloud provides simple drag and drop functionality to track customer engagement across channels. Users can gain deep customer insights through artificial intelligence, chatbots, loT, etc. [16]
6Adobe
Adobe's Marketing Cloud is an enterprise customer relationship management (CRM) platform that enables users to manage the sales, marketing and customer support facets of their customer engagement strategies. With Adobe Marketing Cloud's integrated CRM tools, tasks are made more efficient.
Adobe Analytics, which aids data-driven marketing practices by combining actionable analytics and audience segmentation with the reporting, management and sharing of key business information. Using this tool, marketers can measure and manage customers' online and offline activities. This enables customers to improve lead conversion rates, therefore enabling them to cut costs and improve sales.
Through a joint partnership, users of Adobe Marketing Cloud and the Microsoft Dynamics CRM platform can use both together to align sales and marketing information, identify high-value audience segments, combine Web behaviour data with order history and other customer-centric details to identify the customer's sales lifecycle stage and deliver the proper content at the right time — including via a website's landing page, a service follow-up email or as a mobile app alert. [17]
7DocuSign
DocuSign's mission is simple: "to accelerate business and simplify life for companies and people around the world". The company creates solutions for "automating and connecting the entire agreement process" with DocuSign's products designed to be frictionless, cloud-based, and cost effective for global organizations with 90% of Fortune 500 organizations using or having used DocuSign. [18]
DocuSign's product offering has become the clear leader within the eSignature segment. DocuSign has been able to leverage this position to become the dominant firm within the CLM sector as a whole. Through pioneering the E-Signature product and strong marketing DocuSign benefits from very strong brand recognition dominating rivals within the CLM space. Furthermore, DocuSign's has been able to develop valuable relationships with sales departments at many leading Fortune 500 and other firms, which would be difficult to replicate for competitors or new entrants.
DocuSign's primary competitor within the CRM sector could be considered to be Adobe, since while DocuSign dominated the CLM market and its contract management business has a huge market share, it is also attempting to upsell further services to these partner companies, which would enable DocuSign to become an end-to-end service provider, servicing the needs of the client throughout the entire lifecycle of a contract, from signing to Notary and Legal services.
Analysts expect the cloud based CLM market to have a TAM in excess of $7.6B by 2022 and a TAM around $20B later in the decade giving a 31% CAGR. In line with broader industry trends, the CLM segment is likely to see a huge increase in the integration of data analytics tools and particularly Al-powered functionalities to improve efficiency and streamline processes. Inthis arena, analysts expect DocuSign to be able to leverage their huge customer base to create an industry leading CLM offering, cementing their position as the dominant firm within this niche. [19]
DocuSign is growing rapidly and in general has seen high user satisfaction from adopters of its platform. Furthermore, it has a huge opportunity to upsell as most users which begin by using some of the services offered generally take up the other services over time. These factors combine to make DocuSign a compelling business which is poised for high organic growth, expansion into new high-growth verticals and continued dominance in its existing business lines.
INDUSTRY TRENDS
Further Shift to Cloud for CRM
Cloud Penetration by Functional Market

The application software industry's shift to the cloud is still in its early stages, with less than half the entire market on a public-cloud model. The superior functionality of the cloud should continue to drive double- digit growth as enterprises accelerate their digital transformation. [20]
Use of the cloud should enable CRM providers to cut their cost base, while simultaneously improving their value proposition by improving the integration of different service provided to specific partners. This means that, in a fully integrated system, the Sales department should immediately be able to access CRM data from all other departments instantaneously, dramatically improving efficiency particularly at smaller firms which are notorious for delays in production due to lack of cross-department access to necessary data, and antiquated data storage systems.
A cloud-based industry is also likely to see more competition between the top providers since firms are no longer tied to a specific provider by their existing infrastructure. This could mean greater price competition and better outcomes for customers, although the high costs of switching CRM platforms, Cloud-based or otherwise, will likely mean that there would have to be significant benefits in either functionality or cost for a customer to switch from one provider to another.
Increasing Platform Integration of Data Analytics
Most CRM platforms are increasingly using greater quantities of data and increasingly sophisticated data analytics tools to create more valuable insights for their users. Microsoft and Google are notable examples who have access to proprietary data assets which enable them to provide a far superior value proposition than competitors within their respective market niches. As written about in the DocuSign company analysis, the supply of high-quality Data can enable valuable Al assets to be developed, ensuring firms dominance within their respective niches.
As this trend progresses this will gradually increase the barriers to entry for new firms entering the market as the cost of maintaining the cloud infrastructure necessary to compete with leading firms, who have invested huge amounts to develop their cloud infrastructure, continues to increase.
There are also likely to be short-term costs associated with ensuring existing data analytics are GDPR
compliant and ensuring the compliance of any software due to be released in the next few years. [21]
Long-Term Market Consolidation for Generalist Platforms
In recent years there has been an explosion of new players in the CRM space, these players range in Size, Geography and Scope. There have been several new entrants attempting to offer a broad CRM platform to compete with Salesforce and SAP.
In the Mid to Long term, we anticipate a general market consolidation amongst players which offer a generalist CRM platform. This is based on the trend of increasing integration of data analytics tools into the CRM software offering, with most clients expecting their software to be able to generate actionable insights and provide high level analysis of their current CRM performance, as compared to the more basic functionalities offered by traditional CRM platforms.
These analytics offerings are dependent on access to accurate and varied data in order to improve their tools and create a valuable offering. This will likely lead to strong network effects and higher barriers for new entrants, likely leading to a broader consolidation of the market.
Increasing Niche-based Fragmentation/Specialisation
In contrast to the trend of increasing market consolidation within the generalist platform segment, across the sector more generally there is likely to be a degree of fragmentation for certain niche industries. For example, platforms have emerged with a specific focus on the property sector, enabling firms to streamline their acquisition and disposal of property and to maximise occupancy rates.
These sector focused platforms can provide a far greater value proposition for many firms, particularly smaller firms which are unlikely to be subscribed to multiple platforms. The higher degree of red tape and bureaucracy within the industry the more likely it is to experience this kind of fragmentation in platform providers, who can help to streamline specific processes which are not addressed by larger platforms, hence why the property sector was ripe for specific technology.
Of course, while there is likely to be some fragmentation based on sector, this does not necessarily mean that these needs will be met by new firms. Salesforce already possesses a huge range of applications which could be expanded to include sector specific applications. If these innovations are developed internally this would simply result in a greater variety of applications being offered by firms, as opposed to new firms gaining market share within these new market verticals.
Furthermore, many of the larger players may be likely to buy out smaller sector specific players in order to enhance their own value proposition. SAP for example has been highly acquisitive in its transition from on premises CRM fulfilment to a cloud-based model (See SAP Firm Analysis). It remains to be seen whether this would elicit anti-trust concerns, but if the Cloud Data Storage segment is any comparison regulators seem content to allow a few firms to dominate the segment with little restriction.
Sector-wide Wage Inflation Due to Talent Shortage
In wide swathes of the economy, in both Europe and the US, we are seeing large scale shortages of labour, and increasing wage inflation to attract the best talent. [22] This is particularly true for some of the ke markets and in the roles which are crucial to the upkeep of CRM platforms.[23]
Nearly four in 10 technology professionals received a pay increase in the past year, according to new data from tech recruiter Harvey Nash, with development managers, user experience (UX) and user interface (UI) designers, system architects and data science professionals seeing the biggest increases. This list represents many of the roles which CRM providers will need to recruit heavily in order to facilitate continued expansion, furthermore these shortages are most acute in the markets in which the largest players are based, the US (Salesforce, Oracle, Google, etc.) and Germany (SAP). [24]
This trend appears likely to endure in the near future, as the rapid growth in demand is not being met by a Global Higher Education system which is failing to adapt to the skills demands of the modern workforce. Furthermore, limits on mobility introduced by certain governments, such as the Trump administration's reduced issuance of skilled work visas for the technology sector, [25] will further exacerbate this problem. This final issue is likely to be resolved to some extent by the increasing uptake of remote working which, unsurprisingly, has been common at many of these leading Cloud-based Operators.[26]
However, it remains to be seen whether these firms will switch to an all-virtual work system which would be required to circumvent the limitations imposed by national governments. This is to say that 'flexible working', whereby workers are allowed to work from home for a large proportion of their time but are expected to attend in person events and meetings periodically would still require skilled developers to be tethered to specific Tech Hubs (Palo Alto, Shenzhen etc.), this is particularly true in sectors that are more relationship based. !?'1 The adoption of full remote working is likely to be rarer among the higher tier of management if the policies of FAANG Tech Giants is any metric to go by. [28]
You can access the White Paper here.
REFERENCES
1Anurag,R Kolar, S Salesforce Far Above Rivals in Cloud CRM Apps, Bloomberg Intelligence
2Anurag,R Kolar, S Salesforce Far Above Rivals in Cloud CRM Apps, Bloomberg Intelligence
3Anurag,R Kolar, S Cloud Primer: Hyperscalers' moat to continue to widen, Bloomberg Intelligence
4Anurag,R Kolar, S Cloud Primer: Hyperscalers' moat to continue to widen, Bloomberg Intelligence
5Salesforce Completes Acquisition of Slack, (21% July 2021), Slack.com
6Wong, Kenneth; Bass, Dina (23 May 2012). "SAP to Acquire Ariba for $4.3 Billion in Push Into Cloud". Bloomberg.com. Bloomberg News.
7SAP To Acquire Concur Technologies To Boost Cloud Sales". (22 September 2014)Forbes.
8Mahadevan, Neetha; Doerner, Stephan (19 September 2014), "SAP to Acquire Concur Technologies". The Wall Street
9"IBM and SAP Score Win Over Amazon". (14 October 2014) Business Insider.
10HP News – HP and SAP Accelerate Journey to SAP® S/4HANA on HP Helion Managed Cloud". Hewlett-Packard.
Retrieved 26 March 2017
11Hewlett-Packard. Retrieved 26 March 2017 "Microsoft and SAP Strengthen Ties with Mobile, Data, Cloud Partnership". TechCrunch. 19 May 2014
12What's new for administrators and customizers in Microsoft Dynamics 365. technet.microsoft.com.
13 Browser compatibility introduced with Microsoft Dynamics CRM 2011 Update Rollup 12 and later versions Microsoft.com.
14 Wolford, B., 2021. What is GDPR, the EU's new data protection law? – GDPR.eu. [online] GDPR.eu. [Accessed 15 September 2021].
15 Buffington, J., 2011. Comparison of mass customization and generative customization in mass markets. Industrial Management & Data Systems, 111(1), pp.41-62.
16 Adair, B (2021) Salesforce Sales Cloud vs Oracle CX: Which CRM is the Winner?
17 Houpes, T] (2021) Adobe Marketing Cloud CRM platform overview
18 Wang, A., 2021. Docusign (DOCU) Q4 2020 Earnings Teardown. [online] Public Comps. Available at: https://blog.publiccomps.com/docusign-docu-q4-2020-earnings-teardown
19 Wang, A., 2021. Docusign (DOCU) Q4 2020 Earnings Teardown. [online] Public Comps. Available at: https://blog.publiccomps.com/docusign-docu-q4-2020-earnings-teardown
20 Anurag,R Kolar, S Cloud Primer: Hyperscalers' moat to continue to widen, Bloomberg Intelligence
21Wolford, B., 2021. What is GDPR, the EU's new data protection law? – GDPR.eu. [online] GDPR.eu. [Accessed 15 September 2021].
22 Thomas, D., 2021, UK faces 2 years of labour shortages, CBI warns. Ft.com. [Accessed 18 September 2021].
23 Taylor, M., 2021. 18 CRM Statistics You Need to Know for 2021. [online] Superoffice.com. Available at: https://www.superoffice.com/blog/crm-software-statistics/> [Accessed 18 September 2021].
24Benhayoun, L. and Lang, D., 2021. Does higher education properly prepare graduates for the growing artificial intelligence market? Gaps identification using text mining. Human Systems Management, pp.1-13.
25Fox, B., 2021. Trump administration to sharply limit skilled-worker visas. [online] AP NEWS. Available at: https://apnews.com/article/donald-trump-archive-immigration 6987e599b563e73c22380fe3bc371324[Accessed 18 September 2021].
26Artz, M., 2021. The Invisible Office and the Future of Remote Work. [online] The 360 Blog from Salesforce. Available at: https://www.salesforce.com/blog/future-of-remote-work> [Accessed 18 September 2021].
27Bajarin, T., 2021. The Death Of Silicon Valley Is Highly Exaggerated, Again. [online] Forbes. Available at:
https://www. forbes.com/sites/timbajarin/2021/02/23/the-death-of-silicon-valley-is-highly-exaggerated-again/[Accessed 18 September 2021].
28 K, C., 2021. Apple employees won't return to the office until early 2021, CEO Tim Cook says. [online] Business Insider. Available at: https://www.businessinsider.com/apple-employees-work-from-home-until early-2021-2020-7?r=US&IR=T[Accessed 18 September 2021]
ACKNOWLEDGEMENTS
Many thanks to the individuals below who helped me formulate this paper.
Aaron Aggarwal, Oxford University
Guy Spier, Aquamarine Capital
Cecelia Wong, Aquamarine Capital
Sainsbury Library, Said Business School, Oxford UniversityYou can access the White Paper here.