A Look into the Future of China's Largest Alcohol Market
BaiJiu (白酒): That's the Spirit
Introduction and Disclaimer
I wrote this as part of my internship with Guy Spier at Aquamarine Fund in July 2019, ahead of my final year of high school.
What follows is a broad overview of BaiJiu, but there is much to explore.
The purpose of this memo is to start a conversation on where this enormous market is heading in the coming years and to shine a little light on an industry that is becoming more and more prominent in the Western world.
Please feel free to get back to me with any reactions and insights via email: [email protected]
The Current State of BaiJiu: The Facts
Today, China is the largest market in the world for almost all goods – especially their iconic alcohol, BaiJiu. In China, BaiJiu accounts for 99% of all liquor sales, making it the largest liquor market in the world! On top of this, according to The Lancet Medical Journal, the Chinese consume tremendous amounts of alcohol per day per person.
On average, a Chinese person consumes a whopping three drinks per day – more than the Brits, Australians or Japanese– meaning that there is a whole lot of BaiJiu going around. BaiJiu, a clear liquid distilled from fermented grains, is a relatively expensive and high alcohol volume drink (typically 40% – 60%). The leader in the marker of BaiJiu is MouTai with a staggering $30.5 billion annual revenue in the last fiscal year, making it the world's highest value liquor group.
Behind them, we find WuLiangYe with a $16 billion revenue, YangHe with $9.1 billion, and LuZhou LaoJiao with $4.5 billion. Each of these companies drives the BaiJiu market nationally as they continue to grow by expanding their reach and raising their prices.
With each year, the sales of BaiJiu in China have grown, and it is unlikely that this trend is going to change. In fact, the ZhongQuan Research Department estimates that BaiJiu products over 1,000 RMB ($158.3) will become the main force driving sales growth in the Chinese alcohol market in 2018. For generations, BaiJiu has been seen as a symbol of success and affluence, becoming a staple at Chinese banquets and state dinners. So, as the average disposable income of Chinese citizens grows, there is more demand for this normal good.
A good that was once sought-after but unattainable by many in China is now becoming accessible to the majority, opening the gates for mass consumption. Meanwhile, Derek Sandhaus, author of 'BaiJiu: The Essential Guide to Chinese Spirits', says that
"China is the only country in the world where drinking gets more prevalent when you get older." This indicates that, not only are people buying more BaiJiu, they are also drinking it for longer.
In Chinese business, drinking is also an important part of the culture. Some job advertisements note that drinking with clients and having a "good drinking capacity" is vital to ones' career advancement.
Long story short, BaiJiu is one of the most prevalent markets in China, even the world, and recent trends have shown many signs for a continued growth, especially globally. Between the longstanding cultural drinking habits in China and the rising incomes of Chinese citizens, I am optimistic that the market for BaiJiu will greatly expand in the coming years.
MouTai: The Dragon of the BaiJiu Industry
With 24,039 employees, KweiChow MouTai is a massive BaiJiu company whose sales make up for 89.9% of China's BaiJiu net sales. Although they are the giants in China, their presence is continuing to expand to Western countries such as Australia and the United Sates. MouTai went public in an IPO on August 31st, 2001. However, Guizhou State-Owned Assets Sup. & Admin. Commission continues to be the majority shareholder, owning 64.2%. MouTai has situated themselves so that they are commonly known as the "national liquor", commonly served at fancy Chinese events and diplomatic dinners.
MouTai has both the international and domestic image of being a luxury brand of alcohol. In conjunction with the growing demand for MouTai, Jing Daily reports that the price of a MouTai bottle has surged 1000% in recent decades. Yet, despite the now staggering prices, the demand remains strong due to MouTai's customers' unwavering loyalty. Hui Zhi from the Jing Daily suggests that MouTai's importance lies in its prestigious quality and extreme rarity.
Similar to other liquors, MouTai's BaiJiu becomes more valuable as it ages. This has given way to acclaimed MouTai collections that have been part of expensive auctions among the affluent Chinese community. In addition to the measurable value, Hui Zhi notes that:
"Maotai (MouTai) has a special reputation as China's national liquor due to its cultural and political importance. It is considered the drink of diplomacy, used to toast important political figures, including President Richard Nixon on his landmark trip to China in 1972".
My analysis of MouTai leads me to believe that as the global demand of BaiJiu grows, they will too. Not only because they are at the forefront of the Chinese BaiJiu market, but also because their brand name has become synonymous with luxury in China. So, as foreigners become more interested with Chinese BaiJiu, they will likely be drawn to the best, namely, MouTai.
The Future of BaiJiu: What's Next
While there is a lot of potential for the BaiJiu market to grow dramatically throughout China and the world, there are also, of course, some obstacles on the way.
There have been a number of reports predicting a decrease in the demand for high alcohol content liquor due to an increase of awareness of negative
health. Chronic drinking poses the risks of liver damage, heart disease and cancer for many regular Chinese BaiJiu drinkers. As the general population is becoming more exposed to these risks, they will be less inclined consume alcohol.
Ray Wong, Senior director of Ipsos China, argues that a drinker can be equally as satisfied with alcohol with a lower alcohol content, suggesting a switch from a high alcohol volume drink like BaiJiu to something with a lower alcoholic content such as beer. In response to consumers' decreased desire to drink, Chinese drinkers will be more likely to buy smaller bottles of
liquor rather than larger ones.
Researchers having studied the cultural and health effects of Chinese drinking patterns suggest that taxation or price policy could be considered as an effective means to reduce rates of alcohol-related health and social harms.
Americans and other Western nations are not accustomed to the high alcoholic contents of BaiJiu. Although they have their own forms of high alcoholic drinks such as Vodka and Tequila, they still have lower alcohol contents than BaiJiu. So, despite efforts to expand to the West, Westerners simply may not like the taste.
An example of this is Ming River, a brand of BaiJiu introduced in the United States. American consumers were not used to the high alcohol volume of BaiJiu. To adapt to this, the owners of Ming River adjusted their recipe of BaiJiu to fit the consumers' tastes: a lower alcohol volume closer to 40% like Vodka.
Shift in Cultural Behaviour
A once desired drink among esteemed Chinese has become a drink of the past according to some millennials in China. BaiJiu is now regarded as a drink of the stuck-up leaders and government officials, mass consumed at banquets and dinners. Some of the younger generation do not wish to take part in fueling the corporate cycle and have chosen to abstain from drinking BaiJiu. Instead, they have turned to other alcohols like beers.
Response to Anti-Corruption Laws
MarketingtoChina.com reported in 2013
"Starting from 2013, the highest military authorities announced 10 new rules in order to decrease the extravagance of officials and to fight against corruption. According to the new regulations, baijiu consumption during luxury banquets will be "banned", and restrictions will also be adopted to prevent senior officers to stay in luxury hotels even in business travel."
Following these new regulations issued by the Chinese government, large BaiJiu companies saw a considerable loss in sales, since much of their revenue is funded by these banquets and parties.
Possibilities for Global Growth
Despite the obstacles that BaiJiu faces for international and domestic growth, when all factors are considered, their opportunities of growth outweigh their challenges. From new marketing campaigns to strategically introduce BaiJiu to the international markets to rebranding BaiJiu locally, BaiJiu has begun their journey of becoming a giant of world liquor
As a higher number of women, both globally and within China, are becoming more active members of the workforce and thus, earning higher wages, they subsequently have higher disposable incomes. Many of these women choose to spend their extra money on BaiJiu, increasing the sales and market of BaiJiu.
Although women typically drink in smaller quantities than men, their demand for high quality liquors are stronger than that of men. BaiJiu is a perfect balance for this growing population of comfortable women drinkers: smaller quantities with high alcohol contents.
China's per capita income is on the rise and as its economy continues to grow, so does the national disposable income. Alcohol, being a common normal good, will naturally become more demanded as more and more people are able to afford it.
Basic economic principles suggest that as the demand for a product, in this case BaiJiu, rises, so will equilibrium price. BaiJiu companies have already reacted to this change in consumption and have started to raise their prices accordingly to meet the growing demand. With more demand and higher prices of the goods, BaiJiu companies are able to earn much larger annual revenues.
Increase High Quality Food and Beverages
With the dramatic rise of cooking shows and food and beverage media, the average person's affinity towards high quality foods and beverages has grown. TV shows such as TopChef and Hell's Kitchen have left consumers placing more emphasis on what they eat and drink. A generation of foodies 8 who care more about what they eat and drink has emerged and has resulted in an increased demand of high-quality drinks such as BaiJiu.
To further this cultural appreciation of foods and drinks, there has been a significant expansion of high-quality restaurants and catering services. These establishments are pressured, by society, to have respectful goods which now include BaiJiu.
"Now the distilleries have taken a more consumer-oriented approach. The government has stopped being the major purchaser and consumer of high-end baijiu, following the guidance of president Xi Jinping. There are also a lot more trusted online vendors, which has among a lot of consumers restored confidence that they can buy high-end baijiu and not get fakes."
Derek Sandhaus, author of Baijiu: The Essential Guide to Chinese Spirits
Social Media Marketing and Advertising
The rise of social media and online marketing has given way for BaiJiu to expand its reach globally. With singular post on a social media platform, companies have the ability to reach millions globally without much cost or effort. This is the future of marketing and BaiJiu companies know this and have taken advantage of it.
Before taking over the world's liquor market, BaiJiu companies first looked to national Chinese forms of social media. WeChat and WeiBo run the online world for brands and marketing in China.
– WeChat, a social media app with over 500 million daily users in China alone, enables companies to promote their brand via mobile and tablet devices. There are limitless benefits for BaiJiu companies employing WeChat as a mode of promotion for their products. WeChat allows brands to create an official page for consumers and have a registered online chatting platform for consumers to communicate directly to employees.
– WeiBo, another Chinese social media app with tens of millions of daily users, is used by companies to establish an official brand page for customers. Once a company's WeiBo account is verified, this opens the doors to many online opportunities.
Within these social media platforms, it is wise for BaiJiu brands to engage with influencers with a significant online following. Very often, brands collaborate with online influencers to promote their products. These influencers have wide and loyal audiences so if they were to endorse a particular brand's BaiJiu, it is likely for a percentage of their following to go out and purchase that BaiJiu out of loyalty and trust of the influencer.
Over time, brands can form partnerships with these influencers whichsometimes leads to them becoming brand ambassadors. Entering a foreignmarketwith a social media influencer is a strategic method for a BaiJiucompany to effectively reach many consumers without participating in massadvertisement campaigns.
Apart from social media accounts, it is also important for Chinese BaiJiu companies to have a website, hosted in China, that follow the Chinese website standards including an informative landing page and ample photos. Chinese consumers appreciate E-Commerce sites that have precise information of the product, with the price, product details, and any other information that they should be aware of. Having this information readily available on the platform ensures trust and reliability between the seller and the buyer.
Since, in the past, Chinese companies have had their fair share of issues with selling fakes and poor-quality goods online, it is imperative that a BaiJiu
company looking to utilize E-Commerce websites ensures that their products sold online are reputable. It can be a challenge to try to chase down fake sellers or counterfeit products, but it is worth it to maintain a respectable company image.
Within China, T-Mall and TaoBao are the most popular E-Commerce websites. Each day, tens of millions of products are bought and sold on these platforms and are quickly sent across China. BaiJiu companies, looking to expand their reach, especially within China, should set up official store accounts on both T-Mall and TaoBao in the hopes of generating sales.
Methods of Entering the Western Market
In the United States, BaiJiu companies such as Ming River have sought to grow their reach by becoming staples on Chinese restaurants' menus. Much
like Sake grew a Western audience by becoming a must on Japanese restaurants' menus, this is the same cultural trend that the BaiJiu companies hope to adopt in the Western world.
Regarding the packaging of BaiJiu, Amelia Kang, founder of MaLa Project, a Chinese restaurant in Manhattan, says that
"Brands in China are trying to appeal to younger audiences… using trendy packaging and releasing versions of the drink that are supposed to be added to cold tea—a popular cocktail mixer."
In the mid-2000s, the iconic Chinese BaiJiu company MouTai partnered with top French merchant brand Camus Wine Group to sell its BaiJiu at Camus's airport duty free stores around the world. In the following years, MouTai's sales soared globally, from Paris to Seoul. Between the years 2004 and 2008, MouTai's supply of bottles increased in duty free stores from 1000 bottles to 10,000, ultimately earning them a $7.5 million revenue in sales in 2008. Although overseas sales of MouTai only account for 2-3% of their annual revenue, with partnerships and deals like this, their overseas annual revenue will only increase.
David Putney, managing partner of XIX says that,
"Baijiu is beginning to internationalize, and is used more and more as either an accompaniment Chinese food, or an ingredient in cocktails. The focus is rapidly shifting from baijiu being a very expensive gift and currency for showing face. It is slowly moving towards becoming something on par with most international spirits,"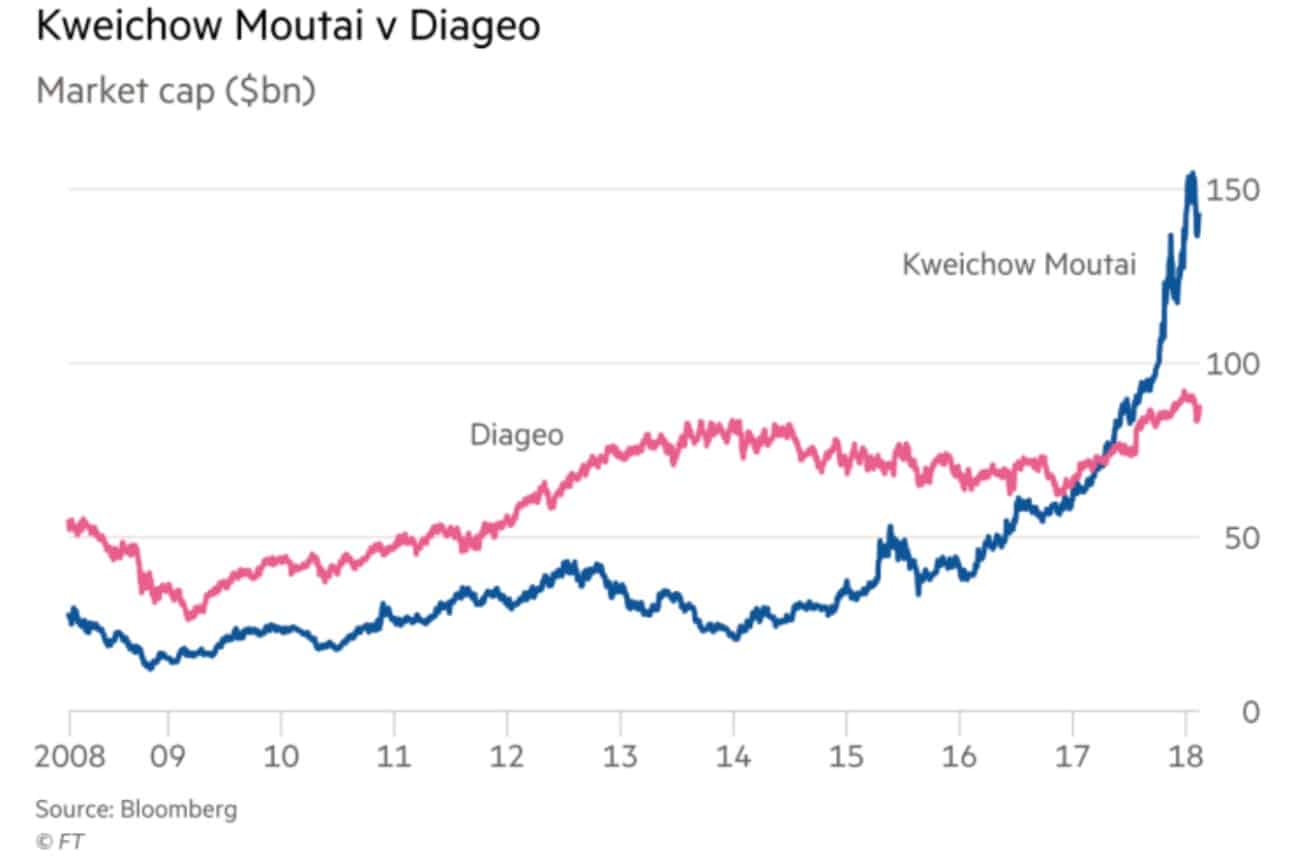 Conclusion
Having looked at both the Chinese and global BaiJiu market, I can confidently state that this ageold Chinese drink will exponentially grow in the coming years. Domestically, BaiJiu companies have adapted to the change in consumer shopping patterns through an active E-Commerce presence or emphasising social media marketing. Meanwhile globally, BaiJiu has begun to expand to all four corners of the world from duty free shopping to assimilating BaiJiu into Chinese restaurants' menus. I trust that in the coming years the BaiJiu market will continue to grow exponentially. A once small-town-fermented beverage in China has become the largest alcoholic market in the world. There is no telling what exactly is to come for BaiJiu, but one thing is for sure: when you're drinking BaiJiu, you're sure to be in high spirits!
Experts
Resources
Author's Short Bio
Alexandra Debow is a High School student attending Hong Kong International School. Although her family is originally from Toronto, she was born and has lived in Hong Kong her entire life. Her interests lie in Economics, Business and Entrepreneurship where she is an active member of a number of startup companies. Coming from Hong Kong, she is able to speak fluent Chinese which helps her in her research, like this, in understanding Chinese markets and publications. Apart from this, Alexandra enjoys being outdoors playing soccer, tennis and running and travelling the world.